Modern (demotic) Greek is the official language of the State. It derives from Ancient Greek yet it has a much simplified grammar. It has absorbed many words from its linguistic and cultural neighbours. Modern Greek differs substantially from the purist 'Katharevousa', or cleansing Greek, an artificially contrived variant which is closer to Ancient Greek that was used at varying times in recent Greek history. While Katharevousa is no longer used in everyday speech it still evident on street signs and can cause occasional confusion for the tourist.
---
Travel Tips
The 27th September is a day of Greek tourism and there is a free entrance to all archeological sites and museums.
The previous point is the same for 28th October, which is a national holiday. Some sites may close earlier.
Monday is a closing day for most sites and museums.
The entrance to Athens Acropolis is free on Sundays from November to March.
During demonstrations, which are frequent in the low season, the city center (Patission street, Omonia, Panepistimiou street, Syntagma square) is usually closed and traffic problems occur.
Dalibor Dvo?ák and
Markéta Kulhavá, Czech Republic
---
Mycenea
When going to Mycenea on your own, bring a flash light. The woman at the entry seemed extremely surprised that we didnt bring one (the place is only open during daylight hours and has lights leading to the restrooms....) since this meant we could not go into the highlight of Mycenea....needless to say we tried with flash and mobile phone but they were of no use. When you are in a group its okay, the guide knows that there are no lights in the caves.
Matthieu Goossens, Belgium
---
During our sightseeing tours through Athens, we were pleased to find out that almost every entrance to cultural, historical and archeological sites is free for students from the EU, so we were lucky to have our student IDs with us as they saved us a lot of money.
Katrin Flatscher & Christian Oberdanner, Austria
---
Islands of the Greek Dodecannesos: Unfortunately ferry boats are being gradually pushed out of market by high speed dolphins and katamarans.Ferry from Athens to Crete: If you book a seat instead of a cabin on the big and modern ANEK ferry to Hania, don't go into the overcrowded seat room. You're allowed to roll out your sleeping bag in several areas of the boat. Roll out early, the best places are quickly gone. The food in the self service restaurant is very good and a much better bargain than the overpriced restaurants under the Acropolis.
Jörg Kahl & Nathalie Laurent, Germany
---
Bike riding around the Peloponnese: Bike are only allowed on the big train ride Pyros to Lorinthos. Don't try to go on other train with your bike; you might get on but youll never get a ride back. On this big rail line there are official trains ( two per day, that have large baggage wagons) that take bikes at very low prices. These trains will always allow the bike, but depending from the helpfullnes of the staff at the station, you MIGHT also be able to get on several other trains. To make it easy on yourself, stick to the official trains though....less hassle.
Matthieu Goossens, Belgium
---
I wanted to recommend the little town of Pelekas in Corfu. Off the beaten track, plenty of "rooms to let" at €15 or maybe less, small, cozy, beautiful views (you can see the ocean from the top on both sides of the island) and with 3 lovely beaches very close by: Pelekas, Glyfada and Myrtiotisa. I recommend the last 2, the 3rd having an unofficial secluded clothing optional area if you are up for it! You can get food and drinks at the kiosks they have right on the beach. I was planning on staying there 1 day but ended up staying 4 and left only because I had to meet with friends in Bucarest! Will be back for sure
Federico Arrizabalaga, Spain
---
In the whole of Leros buses are non existent. You can only rely on the taxis or on your feet (we opted for the latter, plus the bicycle I rented).
Giovanni Pesce, Italy
---
Peloponnesus Railway: Having seen a BBC documentary on this line, I was keen to hitch a ride on it. Got on at forgettable Kalamata and dismounted at Argos. And what a trip it turned out to be! Reminded me of two NZ railway lines I've been on - the Manawatu and Taieri Gorge lines. We roared over mad little viaducts, zigzagged up steep hillsides, rattled through crazy little tunnels and shot through cuttings whose cliff sides seemed to be only a few inches from one's nose. Great stuff! And when we reached the tops, there opened up before us the most beautiful, extended forest of oaks, beeches, sunny glades and sun-dappled gullies. Not the Greece I was expecting! The journey was 50 per cent cheaper in price than the bus equivalent, and with the bonus of plenty of leg room. Being off-season it was not crowded. The experience was one of those serendipitous ones that make travel unexpectedly pleasurable!

Daniel & Susan Millar, Australia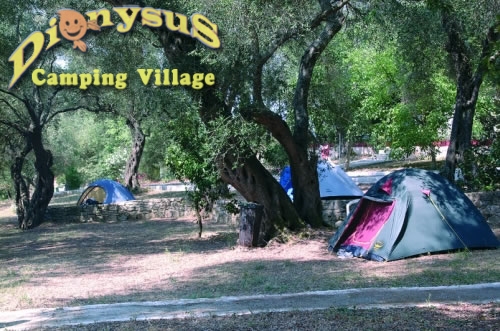 Camping Village
City: Corfu
Postcode: 49100
Address: Kerkira
Dassia, Dafnilas bay
Phone: +302661091417
Fax: +302661091760
E-mail: laskari7@otenet.gr
WWW: http://www.dionysuscamping.gr
---
Attica
Camping Dionissotis
City: Athens
Postcode: 14564
Address: Nea Kifissia
Phone: 0030 2108001496
Fax: 0030 2108001496
E-mail: dionissotis@hol.gr
WWW: http://www.campingdionissotis.gr
---
Greece 's road network covers 117,000 kilometres in total (mainland and islands) and can be divided into the following categories:
Motorways
National roads and highways
Main road network (road connections between prefectures)
Asphalted roads
Main dirt roads (connecting communities)
Other dirt roads (forest roads, rough roads, secondary connections)
The main road axes are listed below, followed by the European road number in brackets:
Athens- Thessaloniki (E 75 )
Athens- Corinth (E 94 )
Corinth- Patras (E 65 )
Corinth-Tripoli- Kalamata (E 65 )
Patras-Pyrgos-Oly mpia (E 55 )
Thessaloniki-Kavala- Alexandroupoli (E 90 )
Igoumenitsa-Alexandroupoli (Egnatia Odos Motorway)
Chania-Agios Nikolaos ( Crete E 75)The capitals of most prefectures are connected to each other by a dense network of bus services . The intercity coach service (KTEL) operates vehicles that meet all modern technical specifications for the safe and pleasant transport of passengers
---
Having exported chaos, drama, tragedy and democracy before most nations were staying up late enough to want souvlaki, Greece boasts an unrivalled legacy. But don't expect a visit there to be a sober study of the ancient world - the Greek propensity for partying dates back to Dionysos. From sometimes smoggy Athens to blindingly bright islands, ancient fragments abound - the navel of the cosmos at Delphi, fallen columns galore on the sacred island of Delos, frescoed Minoan palaces on Crete and even - as some might believe - the remnants of Atlantis at Santorini.
---
When To Go
Conditions are perfect between Easter and mid-June - beaches and ancient sites are relatively uncrowded; public transport operates on close to full schedules; and accommodation is cheaper and easier to find than in the mid-June to end of August high season. Conditions are once more ideal from the end of August until mid-October, as the season winds down. Winter is pretty much a dead loss outside the major cities as most of the tourist infrastructure goes into hibernation from the middle of October till the beginning of April. This is slowly changing, however; on the most touristy islands, a few restaurants, hotels and bars remain open year-round, while the ski resorts on the mainland do thriving business.
---
Visas, Embassies & Border Crossings
Since May 2005 any travellers from EU can visit both parts of Cyprus (Turkish & Greek), passing 'the green line' as many time they want. At the moment there are three passes on the green line: Nicosia, Famagusta and Astromeris-Morphou (Guzelyurt). In the Turkish Cyprus EU citizens can stay up to three months. I went from Turkey by boat to Famagusta and then I pass the green line to go to the Greek cyprus without any problem. I went back to Turkish part in Nicosia and going back to Turkey again. Don't forget your passport.
Andoni Rodelgo, Belgium (Mar 05)
---
Free camping is higly tolerated on many islands. There has been a lot of talk about that recently in Greece, and last year there were also rallies in favour of free camping in Athens. Formally is still illegal, but in reality in almost every island you'll find sites with many tents and also toilets and showers for the campers. Usually these sites are among the most interesting and fascinating in the respective island in terms of nature and landscape (in a previous journey we happened to visit the island of Elaphonissis, just off Neapolis, in Peloponesus, north of Kythira, a nice little island which you missed to talk about in your guide and which is a free camping paradise: 3-4 kilometers from the port there is a huge sandy beach, very wide, with bushy sandy dunes behind it. Free campers set in among the dunes. They are mostly 20-35 year old Greeks.
Giovanni Pesce, Italy (Sep 05)
---
On a recent trip to Athens we took the metro to the airport. The signs at the automated ticket booth only gave the option purchase a certain number of .70 Euro tickets, and we didn't see any other instruction and the ticket window next to the machine was closed. So, we bought four .70 Euro tickets and hopped on the metro. After the last stop before the airport, the police stoped the train and ticketed everyone with the wrong ticket. They weren't even the least bit friendly and yelled at us and told us that we were supposed to ask, because there was someone working in the ticket office. So they fined the four of us 10 euros each. A few weeks later we were back in Athens and were taking the train to the airport again, and this time we did find the hidden ticket window and asked for the proper ticket. The police again stopped the train and ticketed everyone in our car for having the wrong tickets, except for us. We were two moms travelling with our sons, we really weren't trying to get away with anything, and neither were the other families who were fined. But, the police treated us all like we were criminals. I think it's a scam to get us to fund their metro system. If that many people, mostly foreign travellers, are getting fined then they're not making it clear.
Sheri Kordsmeier, USA (Aug 05)

---
The road to the main airport in Athens is called "Marco Poulo." On most maps, it is called Atiki Odos. We only saw one sign that said Atiki Odos, and didn't know to look for Marco Poulo.
---
Scams & Warnings
Paleohora, Crete: There is, as you note, one taxi service. Unfortunately, we were ripped off by them charging us €10 for a 5km trip. I speak Greek and heard him agree to charge €5 with the operator. Unfortunately ny partner doesn't speak Greek and gave the driver the ten he asked for while I was getting out of the car. We didn't realise until he drove away. Lesson - absolutely make sure you agree the fare beforehand. There are no tourist police in Paleohora and the tourist office guy said that he could charge what he wanted as he had a monopoly!
Sharon Leavy, UK (Jun 06)
---
Our further trip consisted of some island-hopping which was quite easy to do because of the good ferry system. Some travel agents selling ferry tickets will try to tell you the ship is fully booked (to make you buy a more expensive high speed ferry-ticket?). Never fall for this because most ferry companies will simply send a second boat if necessary. Booking ahead might cause even more complications than booking shortly before, as the schedules are subject to bad weather conditions and may therefore be cancelled on short notice. There is one particular problem with the ferry schedules that could be of importance especially for short trips (i.e. 1-2 weeks). There are practically no overnight ferries to cover longer distances (9 hrs and more), so you have to take a boat that runs by day, which means you lose an entire day to traveling (unless money isn't too much of a matter). If you plan to see a number of islands in a short period (e.g. the 1-week-itinerary proposed in your "Greek islands"-guidebook), this either means getting up before daylight quite often to catch the first ferry or spending just a few hours on each island and then moving on?
Katrin Flatscher & Christian Oberdanner, Austria
---
Gems, Highlights & Attractions
Greek Dodecannesos - Nyssiros: Pahia Ammos, further down after Lies Beach, is by far the best beach in the island, very spectacular. It is black and wide, and behind it there is a nice bushy little valley plenty of trees where many Greek youths do free camping. Sadly enough Leros is quite a run-down place, plenty of half built houses and building sites, no atmosphere, no personality, no good beaches. Maybe this is also because it was the Island which was more deeply involved in the wartime events from which it was hard to recover or it is because it is the island which hosts one of the biggest madhouses in Greece, toghether with a big military base. Tourism is limited to noisy local junk tourism, mostly in Alinda, with its very thin beach devasted by a noisy road running all along it. The only reason why a visitor might want to visit Leros is if he wants to feel what a very ordinary and slightly run-down greek place looks like.Nevertheless, a few good spots can be found also on this island, even though they are not described on the LP, Blefoutis, in the far north, is definitely the best bay and beach (when the wind is not too strong from north). It is a calm and beatiful bay, with a small stone beach with tamarisk trees offering some shadow). There is not a real village nearby, but there is a decent large beachside restaurant and a bar. Further down, in the second part of the beach, you can see a well preserved large grape-shot gun still testifying the horrible war time events. From Lakki, just by the port, you can take the road to Cape Katasouni: there you'll find a nice strip of coast covered with trees, with decent beaches and plenty nice little tavernas, mostly for local tourism. If you go further down towards the Cape, you'll find some interesting wartime relics.
Giovanni Pesce, Italy

Before you go get covered for all events

Flying is the fastest, easiest and cheapest way of getting to Greece from northern Europe. What's more, scheduled flights are so competitively priced that it's hardly worth hunting around for charter cheapies. Overland travel (buses and trains) between northern Europe and Greece is virtually a thing of the past. All too often, direct travel from this region is prohibitively expensive and difficult.
If you fancy arriving by water there are ferries to Patra from Trieste, Venice, Ancona, Bari and Brindisi, stopping at Corfu or Igoumenitsa on the way. In summer you can get ferries from Bari and Brindisi to Kefallonia.
If you're heading off the beaten track, carrying a bit of cash is a good idea as access to banking facilities may be less convenient. Large commercial and tourist areas welcome major cards and ATMs can be found in any reasonably-sized town. You will probably find plastic taking over travellers cheques in a lot of places.

Changing Your Money
Banks exchange all major currencies in cash, travellers cheques or Eurocheques; the commission is lower for cash. Post offices exchange cash but not travellers cheques, and usually charge lower commissions than banks. Travel agencies and larger hotels change cash and travellers cheques but usually charge higher commissions than banks. Banknote exchange machines can be found in most tourist areas.

Tipping
In restaurants a 'service charge' is included in the bill but this does not necessarily mean the money will go to the wait staff. If the service was satisfactory a tip of 10 to 15% will be most appreciated. For taxis a small gratuity (perhaps rounding up the fare) is appreciated. At Christmas and Easter an extra service 'bonus' is added to all service charges.

Money Tips
Greece is no longer dirt cheap. A rock-bottom daily budget would be €40.00 a day. You'd be hitching, staying in youth hostels or camping, staying away from bars, and only occasionally eating in restaurants or taking ferries. Allow at least €80.00 per day if you want your own room, plan to eat out regularly and intend to see all the sights. If you want a real vacation - comfortable rooms and good restaurants all the way - you will need closer to €120.00 per day. Hotel rates vary enormously according to season - you can save as much as 30% if you travel outside high season (mid-June till end of August).
All upmarket shops, restaurants and hotels accept credit cards. Visa, MasterCard (Access) and Eurocard are the most widely accepted. Most banks have ATMs where you can access your debit or credit account.

Currency Notes
Euro notes come in denominations of 5, 10, 20, 50, 100, 200 and 500. It is often difficult to get change for a €500.00 note.

Currency Coins
One euro is divided into 100 cents or centimes. Coins of 1, 2 and 5 centimes are copper-coloured; coins of 10, 20 and 50 centimes are gold-coloured; 1 and 2 euro coins are gold-and-silver coloured.

Yarns, Fables & Anecdotes
Agios Nikolaos (Crete): Cousteau himself tried to determine the depth of the lake, but did not succeed. The truth came out during the last eruption of the volcano on santorini. At that moment, dead fish also appeared on the Agios Nikolaos lake, indicating an underground passage between both islands. So at the point where this arm reaches the lake, the lake is indeed "bottomless".
Stefaan Motte, Belgium (Jul 02)
Your section on driving in Greece does not highlight enough the dangers of driving in a country where obedience to road rules is not only non-existent but is also viewed as a weakness of character and as evidence of lack of masculinity, for men! I saw elderly drivers being abused for keeping back the traffic because they were not prepared to overtake a slower truck on a blind curve with double lines. I was in buses overtaking other buses and trucks on mountain roads while the driver was totally disregarding double lines! In addition, the traffic statistics show also very high casualties amongst pedestrians who are considered a fair game by some drivers for whom zebra crossings are something to be ignored as they infringe on their personal rights as drivers! Speeding or drink driving are also problems which the police have recently began to target. The greatest tragedy during the Olympics will be the result of terrorist activity by Greek drivers against unsuspecting visitors who expect others to stop at zebra crossings and obey double lines on highways! Athens News, the English language Greek newspaper started a campaign on this issue but its success is uncertain. See the 14 June 2002 edition, article headed "Greek drivers head for Olympic collision"
George Dalidakis, Australia (Jun 02)
---
In Athens, the tram system is a great way to travel, particularly if going to the beach or the port. Very cheap - only €2-60 return from Syntagma to Glyfada. There is also a tourist bus which circulates daily from Syntagma and drops you off at all the major sights. Passes each site half-hourly and costs only €5-00 for 24 hours.